Integra Resources (TSX-V: ITR) is exploring two gold projects in Idaho. We spoke with CEO George Salamis in detail about the potential of "Integra 2.0", the mining history of Idaho and the challenging gold price.
Here you can find the German version of the interview and please read our Disclaimer below. Hier geht es zur deutschen Version des Interviews!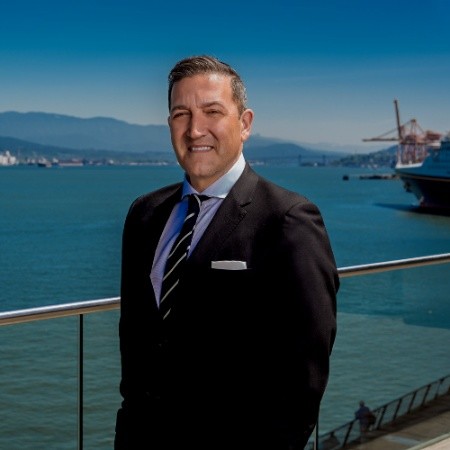 Integra Resources (TSX-V: ITR) acquired the DeLamar and the Florida Mountain gold projects in Idaho. The DeLamar Project already has a inferred mineral resource estimate with 3.54 million ounces AuEq at a grade of 0.71 g/t AuEq. Integra started at DeLamar the first drill program in 25 years. We spoke with CEO George Salamis in detail about the potential of "integra 2.0", the mining history of Idaho and the challenging gold price.
Rohstoffbrief.com: Integra Resources is exploring and developing two projects in Idaho, DeLamar and Florida Mountain. Can you tell us something about the conditions for miners in the state? Idaho has increasingly become more popular with investors and mining companies alike recently.
George Salamis: Idaho has a rich mining history dating back to the late 1800s. In fact, during the Silver City, Idaho gold rush during the 1860s to 1890s, DeLamar was one of the highest-grade gold mines in the Western, United States. The old timers were mining 15 g/t to 30 g/t.
Today, Idaho continues to rank as a top 5 destination for mining companies in the United States. Last year, Integra, along with other Idaho based mining and exploration companies, started the Idaho Mining Coalition. The Coalition's mission is to educate the investment community on Idaho mining policy and the support that exists in the state for increased mining activities. In April, Integra had the opportunity to travel and market the Company with Idaho Governor C.L. "Butch" Otter to Toronto and New York. The governor actually has a mining background himself, so he understands the business. The message from the Governor was clear, "Idaho is open for business." It was the first time in my 30 year career I marketed with a high-level government official whose sole intention was pushing the mining agenda in his state.
Rohstoffbrief.com: The DeLamar project has a history of over 100 years of open pit and underground mining. May you tell us a little bit about its background?
George Salamis: Part of what attracted us to DeLamar was the history. As you may recall, the project Integra 1.0 (Integra Gold Corp) sold in July 2017 for $590 M had nearly 100 years of exploration and mining history. Buried within those records was a treasure trove of data that helped us identify new exploration targets, refine economics, etc.
The history of DeLamar has two parts: historic and modern. Gold was first discovered in Jordan Creek, adjacent to the DeLamar Project, in 1863. This discovery set off an Idaho gold rush. Prospectors and miners flocked to nearby Silver City, pushing the population to 2,500 people and 12 ore-processing mills. The historic miners focused on high-grade, often mining gold at 15 g/t to 30 g/t or more. Miners would locate high-grade veins and follow them for as long as they could. At one point, adits stretched more than 1 km under Florida Mountain from the valley floor.
The bloody gold war of Idaho
The ore was so rich in this district that in 1868 a war broke out 100 meters underground amongst rival gold miners. More than 100 men battled for control of their veins, adits and underground camps. When the smoke finally cleared, countless gold miners had been killed and one support timber had been struck by 2,000 bullets. To them, the ore was so rich that it was literally worth dying for.
In the 1910s, following the collapse of the gold price and financing out of California, mining in the area slowed. It wasn't until the 1960s that the district began to undergo exploration for near surface, bulk mineable gold-silver deposits.
In 1977, Earth Resources Corporation began open pit mining at DeLamar. The project changed hands through joint ventures and acquisitions until Kinross Gold took over as operator. Kinross operated both DeLamar and nearby Florida Mountain as an open pit, conventional milling operation. In 1998, when gold dropped below $300, Kinross stopped mining and placed the operation on care-and-maintenance. The operation was shut down due to record low precious metals prices, not at all bucause exhausted resources and reserves – they left behind lots of resource in the ground as demonstrated by our recent resource estimates.
In 2003, Kinross commenced reclamation at DeLamar. The project was maintained by Kinross' reclamation group until its sale to Integra Resources in 2017. Max Baker, Integra's VP Exploration, actually prepared the sales document on DeLamar for Kinross. He was really impressed with the existing resource at DeLamar and Florida Mountain (3.5 mm ounces AuEq) and the potential for adding significant ounces below and adjacent to the project. Serendipitously, Max brought the project to me just as Integra Gold was in the process of selling Lamaque to Eldorado Gold. The rest, as they say, is history.
Rohstoffbrief.com: You already published an impressive set of drill results. When will we see additional drill results and what will be the next steps for DeLamar?
George Salamis: Drilling has been underway at the project since Q1. The Company is very excited by the drilling at Sullivan Gulch. This area was not historically mined by previous operators, and the first two fences of drill results, which returned 100-200 m of 1-2 g/t AuEq, has the potential to significantly increase the resource estimate in the area. These fences were 100 meters apart in the southeast direction. We are continuing to step out from these drill intercepts to test the extension of this zone. IP at Sullivan Gulch has already extended the potential strike extension to the southeast by at least 600 meters.
In addition to the success at Sullivan, we've begun exploring some nearby high-grade targets on the property – the Henrietta and Milestone target. These new targets have the characteristics for high-grade potential, and we are excited to sink a few drill holes into them.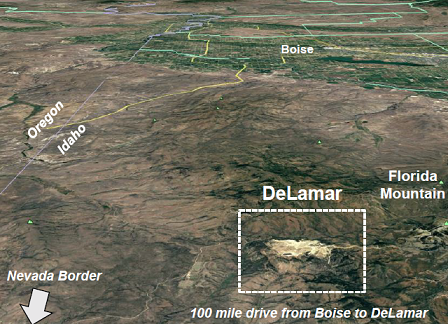 Rohstoffbrief.com: Just a few miles north of DeLamar you are also exploring the Florida Mountain gold project. Integra handles these two projects as it were one. What are the advantages?
George Salamis: Florida Mountain was mined in parallel with DeLamar by Kinross. Historically, Florida Mountain was a high-grade system mined from the valley floor by the "old timers". The Trade-dollar Blackjack vein was renowned in the late 1800s for its incredible grades and consistency.
The existing resource at Florida Mountain (870,541 oz AuEq) is near surface and amenable to heap leaching. Integra has been drilling at Florida to both confirm the low-grade resource and start to delineate the high-grade feeder veins below the low-grade cap. Drill results should be in soon from Florida Mountain.
Hier geht es zur deutschen Version des Interviews!
Rohstoffbrief.com: You already have a resource for both projects of about 3.543 million ounces AuEq. When will we see an update of the resource report and what are your strategic goals? Sell, as you did before with Integra Gold, or bring it into production?
George Salamis: The 20,000 meter drill program for this year should wrap up in October/November. This drilling will go into an updated resource estimate in Q1 2019. The focus drilling this year was two-fold: 1) confirm the existing resources and potentially upgrade some of it from Inferred to M&I category and 2) increase the overall resource on the project. Our expectation is that the drilling at Sullivan Gulch alone should go a long way in increasing the overall resource estimate at DeLamar.
The drilling and then the resource update will pave the way for a Preliminary Economic Assessment (PEA) in H2 2019. This PEA will be enhanced by the metallurgical testwork underway at the project. DeLamar and Florida Mountain were processed historically through a mill; however, extensive tests were done on heap leaching at the project The metallurgical testing completed on site suggests that the near surface, low-grade resource is potentially amenable to heap leaching. The testwork we just initiated is to confirm that hypothesis and further test material from both deposits.
The met testing will turn the PEA into an option study on the project. It will provide a scope for potential multiple paths forward – leaching, milling, a combination of both, etc. – and help chart the course moving forward. Integra's vision is to advance the project aggressively and continue to de-risk it as we contemplate a future production scenario. It was the same path we took at Integra 1.0 and we believe it is the best way to advance projects.
Rohstoffbrief.com: Gold has lost some of its value this year. The gold price fell below 1,200 Dollar in recent weeks. Especially the traders and speculative investors continue to bet on falling prices. As a geologist and a CEO of a mining company: What do you think about the current situation?
George Salamis: I think as an industry we are guilty of focusing too much energy and time on things we can't control. In this case, the price of gold. I've always felt that my time was better spent on the things we can control: costs, economics, resource expansions, thinking outside the box on new exploration ideas and development scenarios – this is our "stock-in-trade" , daring to do things that others haven't tried, be it at the end of the drill bit or using new technologies to find more gold and silver etc. Mining is a business and so we need to operate like a business. As a junior, we aren't driven by margins because they don't exist for us yet. Instead, we are focused on efficient spend of capital, value creation and investor returns. The best way for us to deal with a tough gold price is to find more gold in safe jurisdictions with established infrastructure. That is why we love Idaho and North America.
(Please read our Disclaimer below)
Aktieninfo Integra Resources Corp.:
Börsenkürzel TSX-V: ITR
ISIN: CA45826T1030
Aktienkurs: 0,90 CAD | 0,59 Euro
Ausstehende Aktien: 49,6 Mio.
Optionen: 4,2 Mio.
Warrants: 1,8 Mio.
Marktkapitalisierung: 50,0 Mio. CAD
Relevante Aktionäre: Management & Insider (14%), Kinross Gold: 9,9%
Mehr Nachrichten zu Integra Resources:
Bilder: Integra Resources, privat, TK News Services UG (haftungsbeschränkt), Owyhee-Museum
__________________________________________________________________
DISCLAIMER. BITTE UNBEDINGT BEACHTEN!
The original interview was translated into German. Our German disclaimer is binding. 
INTERESSENKONFLIKT: Die TK News Services UG (haftungsbeschränkt) hat vom besprochenen Unternehmen für diesen Artikel eine Vergütung erhalten! Hierdurch entsteht ein eindeutiger Interessenkonflikt! Bitte beachten Sie daher die weiteren Hinweise auf Interessenkonflikte!
RISIKOHINWEIS: Die TK News Services UG (haftungsbeschränkt) als Herausgeber von Rohstoffbrief.com weist grundsätzlich darauf hin, dass der Erwerb von Wertpapieren jeglicher Art hohe Risiken birgt, die zum Totalverlust des eingesetzten Kapitals führen können. Die TK News Services UG (haftungsbeschränkt) als Herausgeber von Rohstoffbrief.com weist darauf hin, dass jegliche Artikel auf Rohstoffbrief.com oder per Newsletter oder auf Sozialen Medien verbreiteten Artikel explizit nicht zum Kauf, Verkauf oder zur Zeichnung von Wertpapieren jeglicher Art aufrufen. Es kommt weder eine Anlageberatung noch ein Anlagevermittlungsvertrag mit dem jeweiligen Verfasser oder Leser zustande. Die hier dargestellten Informationen beziehen sich auf das Unternehmen und nicht auf die persönliche Situation des Lesers. Bei Aktien-Investments, insbesondere im Bereich der Penny-Stocks, kann es jederzeit zu Risiken kommen, die bis zu einem Totalverlust des angelegten Kapitals führen können. Das gesamte Informationsangebot der TK News Services UG (haftungsbeschränkt) stellt grundsätzlich kein Angebot zum Kauf oder zum Verkauf von Wert- und Schuldpapieren jeglicher Art dar. Bitte nehmen Sie vor einem Investment in jedem Fall Kontakt zu ihrem Bankberater oder einen anderen Berater ihres Vertrauens auf und lassen sich umfassend in jeglicher Hinsicht beraten. Zudem weisen wir darauf hin, dass sich die Rahmenbedingungen für ein Unternehmen aufgrund von politischen, wirtschaftlichen oder sonstigen Veränderungen vollkommen ändern können, was wiederum positiv oder negativ auf die Entwicklung der Wertpapiere wirken kann.
INTERESSENKONFLIKT: Grundsätzlicher Hinweis auf mögliche Interessenskonflikte gemäß Paragraph 34 WpHG i.V.m. FinAnV: Die TK News Services UG (haftungsbeschränkt) oder Mitarbeiter, Berater und freie Redakteure des Unternehmens können jederzeit Aktien an allen im Informationsangebot von Rohstoffbrief.com vorgestellten Unternehmen halten, kaufen oder verkaufen. Das gilt ebenso für Optionen und Derivate, die auf diesen Wertpapieren basieren. Die daraus eventuell resultierenden Wertpapiertransaktionen können unter Umständen den jeweiligen Aktienkurs des Unternehmens beeinflussen. Zudem wird die TK News Services UG (haftungsbeschränkt) regelmäßig damit beauftragt, Werbetexte für Unternehmen zu erstellen. Hierfür erhält der Betreiber von Rohstoffbrief.com eine Vergütung, Daher ist eine unabhängige Berichterstattung in diesen Fällen nicht möglich und wird auch nicht angestrebt. Wenn die TK News Services UG (haftungsbeschränkt) eine Vergütung in welcher Form auch immer für einen Artikel erhält, ist dieser Artikel entsprechend gekennzeichnet. Zudem wird die TK News Services UG (haftungsbeschränkt) auch alle Artikel über Unternehmen kennzeichnen, an der sie selbst oder Mitarbeiter, Berater und freie Redakteure des Unternehmens Anteile halten.
DATENSCHUTZ: Wir geben Ihre Daten NICHT an externe Dritte weiter. Aufgrund der neuen Datenschutz Grundverordnung haben wir unsere Datenschutzerklärung aktualisiert. Sie können sich für unseren wöchentlichen, kostenlosen Newsletter hier anmelden. Eine Abmeldung ist jederzeit möglich.
RECHERCHE: Bei aller kritischen Sorgfalt hinsichtlich der Zusammenstellung und Überprüfung unserer Quellen, wie etwa offiziellen Mitteilungen der Unternehmen, Interviews von Unternehmensvertretern, Analystenkommentaren oder Einschätzungen von externen Dritten, können wir keinerlei Gewähr für die Richtigkeit, Genauigkeit und Vollständigkeit der in den Quellen dargestellten Sachverhalte geben. Dies gilt ebenso für alle von unseren Gesprächspartnern in Interviews geäußerten Darstellungen, Zahlen, Planungen und Beurteilungen sowie alle weiteren Aussagen bezüglich Wert- und Schuldpapieren jeglicher Art. Dies gilt insbesondere für in die Zukunft gerichtete Aussagen. Zudem können sich die Sachverhalte nach Veröffentlichung der Artikel verändern. Die Haftung für Vermögensschäden, die aus der Heranziehung der Ausführungen bzw. dieser Besprechungen für die eigene Anlageentscheidung möglicherweise resultieren können, wird kategorisch ausgeschlossen.
SYMMETRIEN: Die TK News Services UG (haftungsbeschränkt) als Betreiber des Informationsangebots von Rohstoffbrief.com weist darauf hin, dass durch gleichzeitige Kauf- bzw. Verkaufsempfehlungen verschiedener Börsenmedien, Analysten oder weiterer Beteiligter am Finanzmarkt der Kurs der besprochenen Aktien oder Wert- und Schuldpapiere positiv als auch negativ beeinflusst werden kann. Die TK News Services UG (haftungsbeschränkt) als Herausgeber kann auf die Empfehlungen und Besprechungen der genannten Gruppen keinen Einfluss nehmen.
KEINE FINANZANALYSE: Die TK News Services UG (haftungsbeschränkt) als Herausgeber von Rohstoffbrief.com weist ausdrücklich darauf hin, dass es sich bei den Besprechungen auf Rohstoffbrief.com um keine Finanzanalysen nach deutschem Kapitalmarktrecht handelt, sondern um journalistische und/oder werbliche Texte. Sie erfüllen deshalb nicht die Anforderungen zur Gewährleistung der Objektivität von Anlagestrategieempfehlungen bzw. Anlageempfehlungen.
GEOGRAPHISCHE EINGRENZUNG: Die Nutzung dieses Informationsangebots ist ausschließlich natürlichen Personen vorbehalten, die ihren dauerhaften Wohnsitz in der Bundesrepublik Deutschland haben. Allen anderen natürlichen oder juristischen Personen oder Personengruppen ist die Nutzung, wie auch der Zugang zu dieser Webseite nicht gestattet. Diese Einschränkung gilt für alle im Ausland lebenden natürlichen und juristischen Personen oder Personengruppen, insbesondere Staatsbürgern der USA, Kanadas, Australiens oder Großbritanniens. Die Informationen auf dieser Webseite dürfen weder direkt noch indirekt in die USA, Großbritannien, Australien oder Kanada oder an Personen und Personengruppen, die ihren Wohnsitz in Kanada, USA, Australien oder in Großbritannien haben, übermittelt werden, noch in deren Territorium gebracht oder dort verteilt werden.
URHEBERRECHT: Der Inhalt und die Struktur von www.rohstoffbrief.com sind urheberrechtlich geschützt und Eigentum der TK NEWS SERVICES UG (haftungsbeschränkt). Sie dürfen ohne vorherige schriftliche Zustimmung des Betreibers weder in irgendeiner Form verwendet noch reproduziert werden, auch nicht auszugsweise. Der Betreiber ist bestrebt, in allen seinen Publikationen die Urheberrechte der verwendeten Grafiken und Texte zu beachten und nur vom ihm selbst erstellte Grafiken und Texte zu nutzen. Bei der Verwendung von Grafiken und Texten Dritter werden lizenzfreie Quellen genutzt und genannt. Es gilt zu beachten: Allein aufgrund der bloßen Nennung oder Nichtnennung von Rechten Dritter ist nicht der Schluss zu ziehen, dass diese nicht geschützt sind! Sollte der Betreiber dennoch gegen Rechte Dritter verstoßen, so wird er unter dem Vorbehalt der Prüfung unverzüglich jegliche Dateien entfernen, sofern er auf die Rechtsverletzung schriftlich hingewiesen wurde.